NFT Marketplace OpenSea Hits $10B in Total Volume
8 Nov, 2021
•
2 min read
•
NFT
The crypto market's largest NFT marketplace, OpenSea, has officially facilitated more than $10 billion in volume for the first time since opening its doors four years ago.
The first NFT marketplace to be established on the Ethereum blockchain, OpenSea's trading volume has shot up in the past year alongside the boom in non-fungible tokens (NFTs). In August, for example, the platform's total volume was just $1 billion.
OpenSea has officially surpassed $1 billion in gross market volume after a record few days.More impressively @opensea facilitated $1 billion in volume in 2021 alone!2018 – $473k2019 – $8 million2020 – $24 million2021 (YTD) – $1.02 billionJust absolutely insane growth. pic.twitter.com/loH0jw5cqr— Mason Nystrom (@masonnystrom) August 2, 2021
NFTs are cryptographically unique tokens that can be linked to digital or physical assets such as artwork, music, or videos. Many of the most famous NFT series, such as Bored Ape Yacht Club, frequently trade hands on OpenSea, while the platform has also hosted multi-million-dollar sales.
In comparison with other major platforms, OpenSea is streets ahead in terms of trading volume.
Ethereum-based platforms Rarible and SuperRare.co have volumes of just $263.97 million and $177.95 million, respectively. The average price per sale, however, on Rarible and SuperRare is much higher than on OpenSea, suggesting the latter two platforms are more popular for higher-ticket sale items.
The second-highest ranking platform by volume is the crypto game Axie Infinity, with $3 billion in total volume and over one million traders on its platform. By comparison, OpenSea has 635,698 traders on its platform, and Rarible 83,810.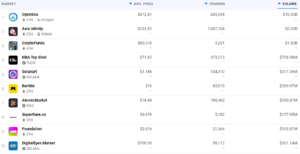 Platform stats for various NFT projects and marketplaces. Source:
.
NFTs take flight beyond Ethereum
The NFT boom isn't just taking place on Ethereum, either, with many projects launching on rival blockchains such as Solana.
Last week, film director Quentin Tarantino announced a series of NFTs on the privacy-centric blockchain Secret Network, with the tokens' encrypted metadata ensuring that only the seven lucky fans will have access to never-before-seen behind the scenes and notes of Tarantino's movie Pulp Fiction.
As more celebrities and artists look to cash in on the NFT boom, the future of nonfungible tokens is surely a bright one.
Source
Subscribe to get our top stories