Why Bitcoin Could Rise To $53K, Here Are The Risks Bulls Must Overcome
Right now
•
3 min read
•
Bitcoin
Bitcoin is moving sideways in lower timeframes as the crypto markets continue to run without a clear direction. The first cryptocurrency by market cap trades at $47,837 with a 1.2% loss in the daily chart.
BTC's price has been moving in a tight range during the week, unable to break above $48,500. Data from Santiment suggest an increase in the amount of BTC's supply exchanging hands since the beginning of September.
This suggests that investors could be taking more profits as Bitcoin tries to take previous highs contributing to the bears' attempts to take over the market.
As seen below, the BTC Token Circulation metric can be used to find a correlation between the price action and the amount of supply exchanging moving on the network. The firm said:
Bitcoin now sits at $48.1k following a volatile couple of weeks to open September. Notably, the amount of unique tokens moving on the $BTC network, known as token circulation, is up big. Wednesday saw 187.91 unique coins moved, the most since July 29.
For Analyst Justin Bennet, BTC's price broke its upward trend during last week's selloff. In that sense, the analyst found similarities between this event with May's price action, when Bitcoin experience the first of several capitulation events.
The $48,000 to $50,000 region is critical for the bulls, if BTC's price managed to take over the latter, Bennet expects a resume of the bullish momentum. Otherwise, Bitcoin is at risk of returning to the $40,000 lows. The analyst said:
Until then (BTC back to $50,000), I'll continue to believe that this week is a corrective move before the next selloff toward $40,000. It's the same pattern as late April and early May.
A Turbulent Week For Bitcoin And The Crypto Market
In addition to the increase in profit-taking by investors, the current week has seen some hurdles in prominent crypto projects and crypto-based companies. In addition to the threat of legal action from the Securities and Exchange Commission (SEC) to Coinbase, Tether had to clarified rumors about the assets backing USDT.
On the other hand, a report by QCP Capital records a "quiet week" in the derivatives sectors. As seen below, funding rates for perpetual swaps have been returning to neutral levels after going negative on September 7th.
With that in mind, QCP expects the current period of consolidation to continue into the $53,000 range for Bitcoin, at least in the short term.
By the end of September, BTC's price could increase its levels of volatility due to the "massive end-month expiry" in BTC options, as seen below. In addition to that, QCP Capital believes Q4, 2021, could bring more macro uncertainty into the market.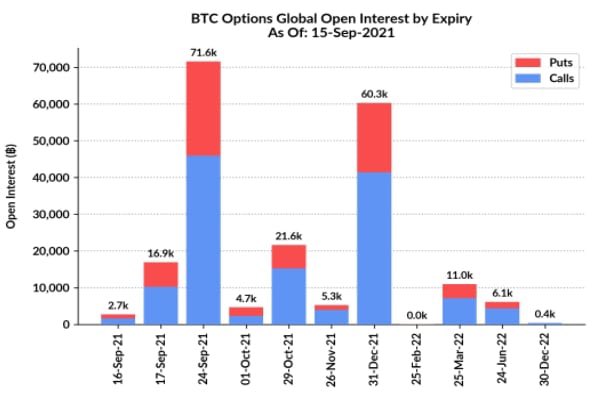 Source