This Week on Crypto Twitter: Kraken's CEO on Company Culture, Plus Reactions to Celsius, 3AC, TRON
19 Jun, 2022
•
7 min read
•
Analytics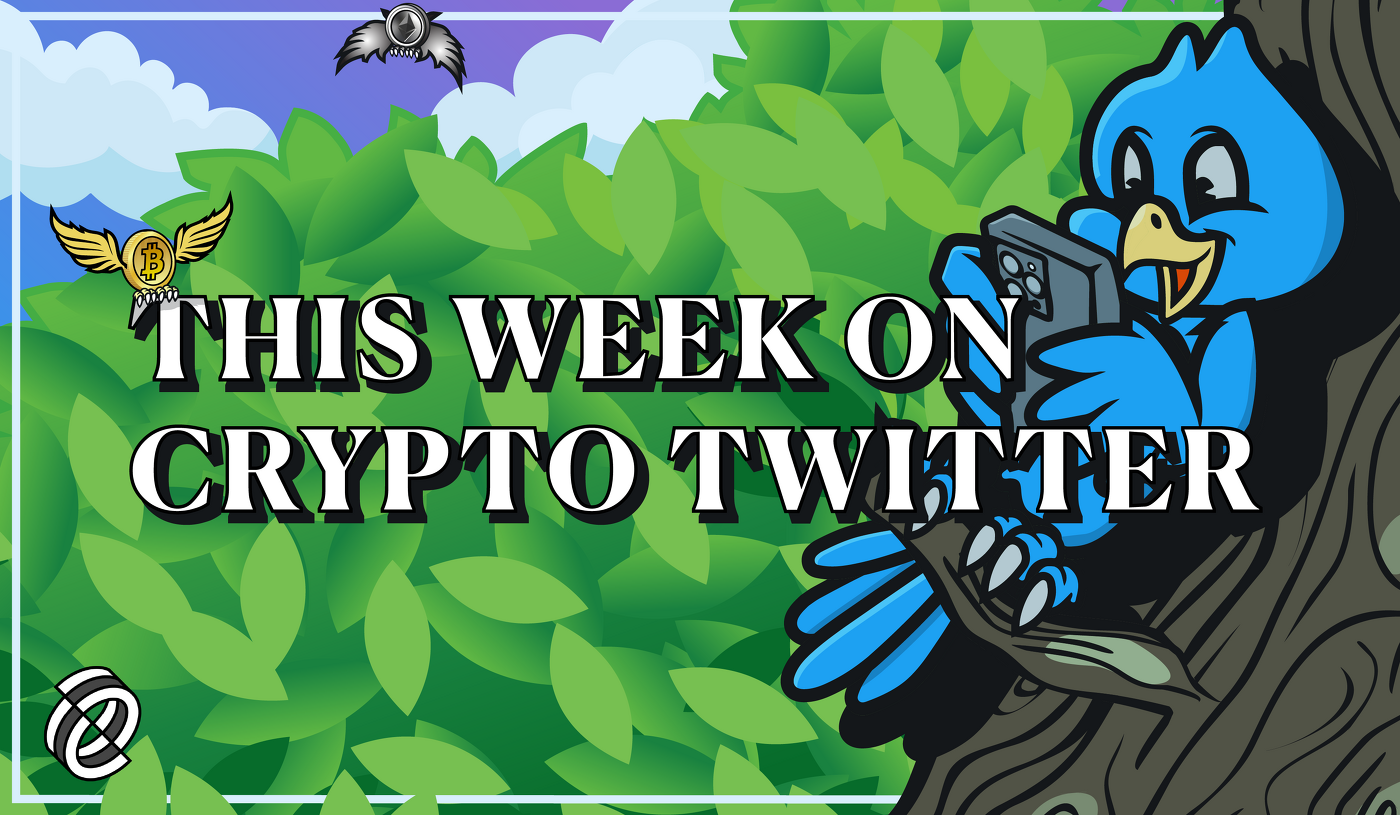 This week was easily the industry's worst of 2022: Prices crashed across the board, with every leading project sinking by double-digit percentages over seven days.
Market leaders Bitcoin and Ethereum hit lows not seen since 2020 as crypto's total market cap briefly bottomed out near $845 billion, more than two-thirds below the all-time high of $3 trillion seen in November. As of this writing, it's around $859 billion, a recovery of 1.85% in the last 24 hours.
There were more than just prices to scream about, however. On Crypto Twitter, many were discussing Celsius's decision to freeze all withdrawals last Sunday. That night, the decentralized finance platform's native CEL token took a 70% hit in one hour, evoking fears that the entire sector is in danger. After all, it was just last month that Terra collapsed.
Jon Wu, who leads growth at the Ethereum layer-2 privacy network Aztec, launched a popular and lengthy broadside against Celsius, accusing the lenders of luring customers with "dangerous use of meaningless platitudes" while pursuing "truly degenerate trading strategies."
Wu explained how Celsius's insolvency was tied to the company's decision to use custodied funds to buy a lot of Lido's Staked ETH (stETH), a cryptocurrency supposedly pegged to Ethererum, but has been trading noticeably below its peg for the last week. Lido's stETH is also not currently redeemable for Ethereum, but will be when the network eventually transitions to proof-of-stake later this year.
At one point in Wu's thread, he called Celsius's business strategy a "delightful dish of degenerate delicacies."
So let's plate this delightful dish of degenerate delicacies:1) Celsius opened a bunch of loans2) They took user deposits and traded them for $stETH3) They now owe a lot of money and don't have the reserves to pay them backCelsius is insolvent.— jonwu.aztec (@jonwu_) June 13, 2022
Bloomberg podcaster Joe Weisenthal highlighted a tweet from Celsius CEO Alex Mashinsky just 27 hours before the company paused withdrawals. "Why spread FUD" indeed.
27 hours apart — Joe Weisenthal (@TheStalwart) June 13, 2022
Twitter didn't hear from Mashinsky for three days following the freeze, but when he returned, he sent a message of support to the Celsius team and community. But no word on restarting withdrawals.
@CelsiusNetwork team is working non-stop. We're focused on your concerns and thankful to have heard from so many. To see you come together is a clear sign our community is the strongest in the world. This is a difficult moment; your patience and support mean the world to us.— Alex Mashinsky (@Mashinsky) June 15, 2022
TRON depegs
Another event reminiscent of Terra's historic collapse last week was Tron's USDD stablecoin's ongoing depeg. On Monday, CEO Justin Sun said he was deploying $2 billion from TRON's reserves to guard against short sellers as the company's other token, TRX, also depreciated.
Funding rate of shorting #TRX on @binance is negative 500% APR. @trondaoreserve will deploy 2 billion USD to fight them. I don't think they can last for even 24 hours. Short squeeze is coming. — H.E. Justin Sun 🅣🌞🇬🇩 (@justinsuntron) June 13, 2022
Sun was aware that the situation felt like a scene-by-scene rewrite of the Terra catastrophe, because at one point, his tweet echoed one of Do Kwon's.
Deploying more capital - steady lads— H.E. Justin Sun 🅣🌞🇬🇩 (@justinsuntron) June 14, 2022
Twitter crypto analyst Byzantine General was not impressed.
$TRX and its algo stable $USDD continue to collapse. Not looking great.And based on the joking tweets that Justin is making it seems no one has learned anything from LUNA. — Byzantine General (@ByzGeneral) June 14, 2022
In spite of some similarities with Terra, TRON hasn't collapsed yet. USDD is still selling short of its peg at 95 cents, but TRX is up 3.5% in the last 24 hours, and although it's shed nearly 20% of its market value over the last seven days, it still had a better week price-wise than Bitcoin and Ethereum.
'The other 99%'
On Wednesday morning, Kraken CEO Jesse Powell fired off an 11-tweet thread outlining his commitment to fostering a crypto-first culture at the exchange while announcing that Kraken would continue hiring "and hopefully do a better job of filtering up front." Powell also mentioned that the company had a small number of mutineers.
1/ We recently attempted to summarize what the @krakenfx culture has been over the past 11 years, and what we hope it continues to be.We had a few heated debates and it turns out we have about 20 people out of 3200 who are totally not on board. 👇🧵— Jesse Powell (@jespow) June 15, 2022
As the thread unraveled, Powell accused the 20 "woke activists" of sapping productivity. He also championed Kraken's diversity.
6/ We've got people in 70+ countries, speaking 50+ languages in the company, trying to build products for people in 190. Differing perspectives will be shared. That's DIVERSITY. It's not always easy. You've gotta be resilient, humble, open and highly tolerant of differing norms.— Jesse Powell (@jespow) June 15, 2022
"We will never ask that our employees adopt any specific political ideology as a requirement for our workplace," the company wrote in a blog post published that day. "That said, we ask that our employees respect the individual rights, privacy, and freedoms of others. Crypto is a freedom movement, and Kraken will remain a freedom company."
Dogecoin-loving Tesla CEO Elon Musk approved.
Good thread— Elon Musk (@elonmusk) June 17, 2022
An empty quiver?
Yet another potential industry time bomb that dominated the Twitter conversation this week was Singapore-based crypto hedge fund Three Arrows Capital's rumored insolvency.
On Tuesday, a crypto trader who goes by Moon Overlord shared a screenshot from blockchain data platform Nansen showing that wallets associated with Three Arrows Capital were linked to five of the largest transactions in the past week. He alleged that 3AC had sold off at least 30,000 stETH (see above), and accused 3AC founders Zhu Su and Kyle Davies of ghosting the public.
people think Celsius is the biggest stETH dumper but its 3AC and it isnt relatively close, they are dumping on every account and seed round address they have, most looks like its going to payback debts and outstanding borrows they have — moon (@MoonOverlord) June 14, 2022
According to researchers and analysts on Twitter, the stETH sale was to prevent a $264 million Aave loan and $35 million Compound loan from going into liquidation.
One of the LARGEST Crypto Venture Capital firms:Three Arrows Capital. They're becoming insolvent. With potentially $18b under management, this could be catastrophic for Crypto.Here's a timeline of what's going on and the possible consequences: ↓↓↓— The DeFi Edge 🗡️ (@thedefiedge) June 16, 2022
Zhu broke his silence by Wednesday, saying ... not much.
We are in the process of communicating with relevant parties and fully committed to working this out— Zhu Su 🔺 (@zhusu) June 15, 2022
By Friday, Davies also had broken his silence, telling the Wall Street Journal that 3AC has hired legal and financial advisers "to help work out a solution for its investors and lenders." Davies mentioned several other options too, including asset sales or a rescue package from another firm. Davies said the firm is hoping to buy more time by negotiating a tentative agreement with existing creditors.
Finally, economist Peter Schiff tweeted on Saturday that while he believes crypto will survive, Bitcoin "will not be a part of it."
A lot of people in the #crypto industry are saying that this crash is a healthy shake-out. I agree that it's healthy, but not for crypto. That industry as we know it is dead, which is very healthy for the economy. Crypto likely has a future, but #Bitcoin will not be a part of it.— Peter Schiff (@PeterSchiff) June 18, 2022
He also, it should be noted, runs a website where investors can buy and sell actual, not digital, gold.
Source
Subscribe to get our top stories