Walken, A Move-To-Earn App, Celebrates 2 Million User Registrations Milestone
3 d ago
•
3 min read
•
Blockchain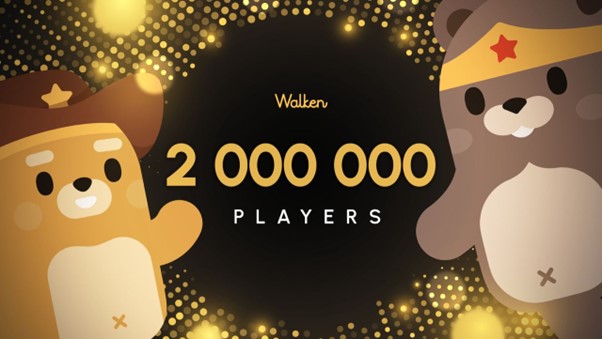 The blockchain gaming sector continues to flourish despite the current craze surrounding the crypto market as a Web 3 gaming startup, Walken, which offers users a move-to-earn mobile app, celebrated reaching over 2 million registered players on their platform.
Announced Thursday, Walken, a Web3 blockchain game, is celebrating reaching over 2 million registered players on its platform earlier this week. The latest milestone shows rising interest in the blockchain gaming ecosystem despite the bearish market in crypto. The platform has gained strong momentum since August 2022, seeing users flock thanks to its sustainable tokenomics and addictive gameplay.
The platform has been in its beta phase testing over the past five months, improving its features and updating its gameplay, seeing the user growth spike from 1 million registered players in August this year to over 2 million registered users, as of writing. All this in the face of the recent tsunami of sobering news and FUD involving FTX insolvency.
Walken, built by developers of Appyfurious and GetFit Apps, is a move-to-earn mobile app that uses motion detection capabilities on standard smartphones and wearable devices. The platform counts the number of steps and players are then rewarded with $WLKN tokens, which can be used for in-app gameplay and purchasing rare non-fungible tokens (NFTs) in its marketplace. The goal of Walken is to link the world of Web 3 and gaming to promote a healthy, active lifestyle among its users.
The awards and rewards on the platform play their role in introducing new players to the platform but even more, are the user experience and features of Walken. The recent milestone reach can also be attributed to the launch of CAThletes (NFT characters within the game), the convenient and easy-to-understand user interface, and no barriers to entry, giving every player an opportunity to walk and start earning.
Nonetheless, Walken still continues on its path to onboard millions of Web 2 users to Web 3 gaming as user interest persistently grows across the globe. As Walken continues to empower the user and promote decentralization, the team still plans to unveil more features in the near future, a team member confirmed.
A promising future for Walken Users
The current bearish market conditions in the crypto market are just a blip to Walken's plans to continue to push the adoption of Web 3 gaming to the masses. As alluded to, Walken plans to introduce new features on the platform in the coming months.
Some of the events and updates planned for all users include Walken Earn, which allows players to stake their $WLKN tokens under fixed or flexible terms, enabling broader token utility and player empowerment. Walken also plans to introduce Walken Runner, a first-of-its-kind hyper-casual game on the platform. Additionally, Walken will also introduce the CAThlete merge event, which allows players to exchange 2 common CAThlete NFTs for 1 CAThlete with a guaranteed higher rarity. Also, daily tasks will also be introduced to contribute to a diversified and exciting experience, with associated rewards for players.
Finally, the Walken team also promised "more features and events" in its roadmap for the coming months to help spread web 3 gaming across the globe.
Source
Subscribe to get our top stories