Solana Jumps 7% as Crypto 'Hotspot' Project Helium Eyes Merge
13 Sep, 2022
•
3 min read
•
Analytics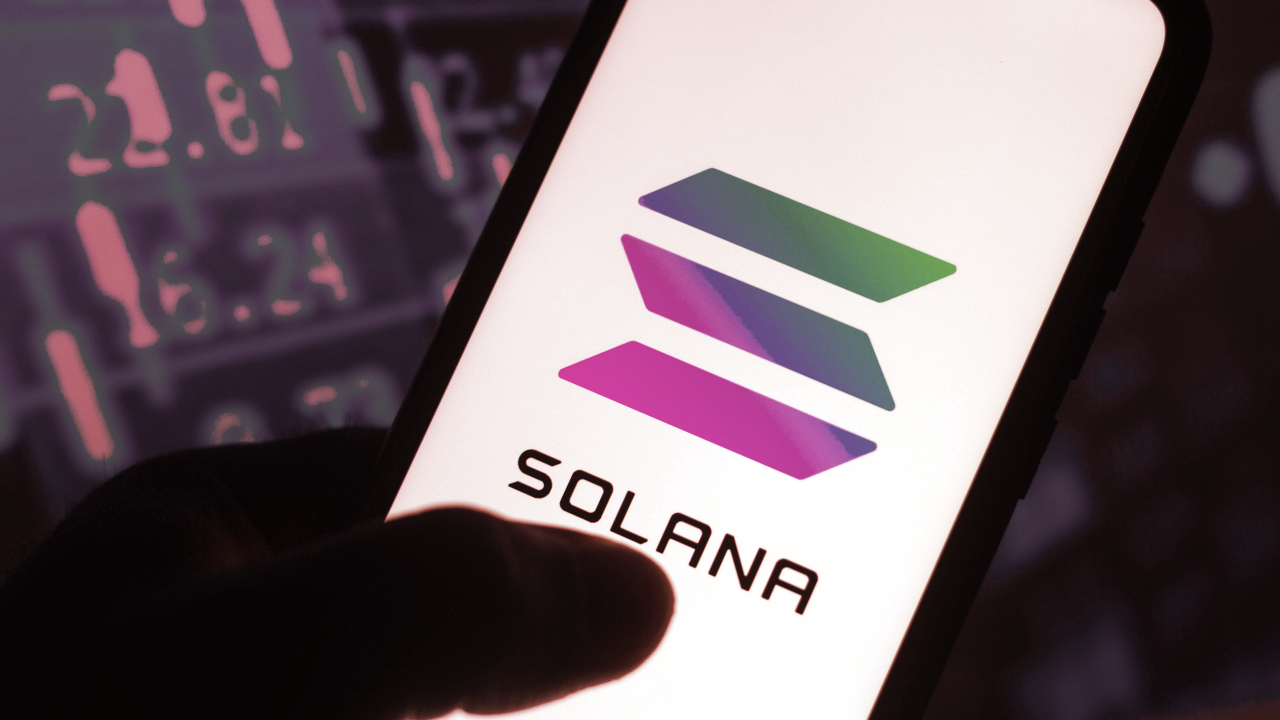 It's been a big day for Solana.
The ninth-largest cryptocurrency by market capitalization has risen by around 7% over the past day.
SOL, Solana's native token, jumped from $35.2 to $38.87 early Tuesday morning. It has since retraced to $38.27 at press time.
Solana is a speedy, proof-of-stake (PoS) blockchain network that allows many of the same operations as Ethereum, including decentralized finance (DeFi) applications and non-fungible tokens (NFTs).
The most recent bullish action is supported by a massive increase in trading volume. Over the past 24 hours, CoinMarketCap reports a rise of 93.74% across Binance, FTX, Coinbase, and Kucoin. The most popular trading pair is the U.S. dollar or its stablecoin equivalents.
Stepping back even further, Solana's token has risen by a whopping 15% over the past week. Last Tuesday, SOL was trading hands at roughly $33.
Over the past 24 hours, traders with short SOL positions have also been blown out. In total, there have been $4.09 million in liquidations, of which more than 82% were short positions. The majority of these bearish liquidations occurred on Binance, according to CoinGlass.
Traders that short an asset, be it crypto or otherwise, first borrow the asset from a broker or exchange. They then sell the borrowed asset on the open market with the expectation that the price of the asset will fall. If the asset indeed falls, the trader will then repurchase it at a cheaper price, repay the loan (denominated in the asset, not fiat), and pocket the difference as profit.
If, however, the market moves against the trader, they may end up losing money by buying back an asset that has increased in value to repay the loan.
What's driving Solana?
SOL's recent price action is likely tied to a spike in Solana-based NFT volume and the potential merge of the Helium Network, a popular Internet-of-things crypto project, to Solana.
According to data pulled from Nansen, the number of Solana NFT transactions hit an all-time high on September 12, with more than one million total transactions across marketplaces and mints.
Data from CryptoSlam suggests that the y00ts, Solswipe, and ABC (abracadabra) NFT collections are driving this activity.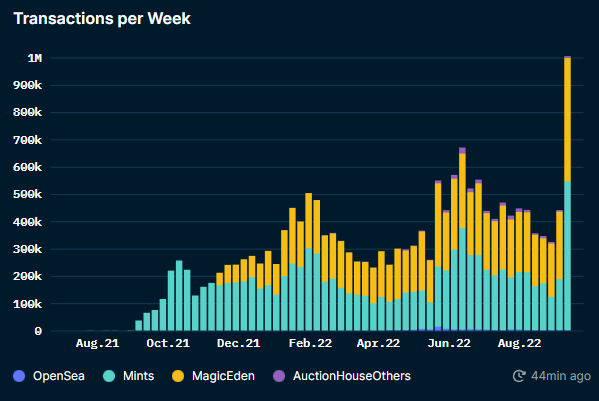 Alongside soaring NFT activity, Helium is also looking to move the entirety of its operations to the Solana blockchain.
Helium is a crypto-powered, peer-to-peer network of various physical "hotspots" that aims to provide improved internet connectivity to low-coverage zones. Individuals who house and power a hotspot are rewarded in native HNT tokens.
As the voting begins, here are 5 key reasons why @Solana is recommended in HIP 70 🚀: 1/ ⛓ The @Helium core developers no longer need to maintain our blockchain.— Helium🎈 (@helium) September 12, 2022
The move, which is outlined in Helium Improvement Proposal (HIP) 70, would have Helium move from its native blockchain, bringing with it the HNT token, governance procedures, and mining rewards, to Solana.
Importantly, it would also give the Helium community more access to Solana's DeFi and NFT ecosystem.
Source
Subscribe to get our top stories