After Massive Volatility, BTC Bounced Off $20K, Altcoins Recover Double-Digits (Market Watch)
16 Jun, 2022
•
3 min read
•
Altcoins
The past 24 hours brought more price fluctuations to the cryptocurrency market, especially after the US Federal Reserve announced the highest interest rate hike since 1994. Nevertheless, bitcoin managed to sustain above $20,000, while the altcoins are well in the green on a daily scale now.
Bitcoin Remains Above $20K
The past week or so didn't go well for the primary cryptocurrency, which dumped last Friday by a few thousand dollars after the US CPI numbers outlined the highest inflation in about 40 years.
The weekend and the start of this week brought even more adverse price movements, and BTC found itself dumping to and below $21,000, which became its lowest price position in over a year and a half.
Yesterday the asset came just inches away from breaking below the coveted $20,000 mark, but it bounced off at that level. Then came the Fed announcement about raising the interest rates by 75 basis points, which threatened BTC's price movements once again.
However, the asset reacted differently this time and spiked to $23,000 in hours. Despite failing there and retracing by over a grand, bitcoin is still well in the green on a daily scale.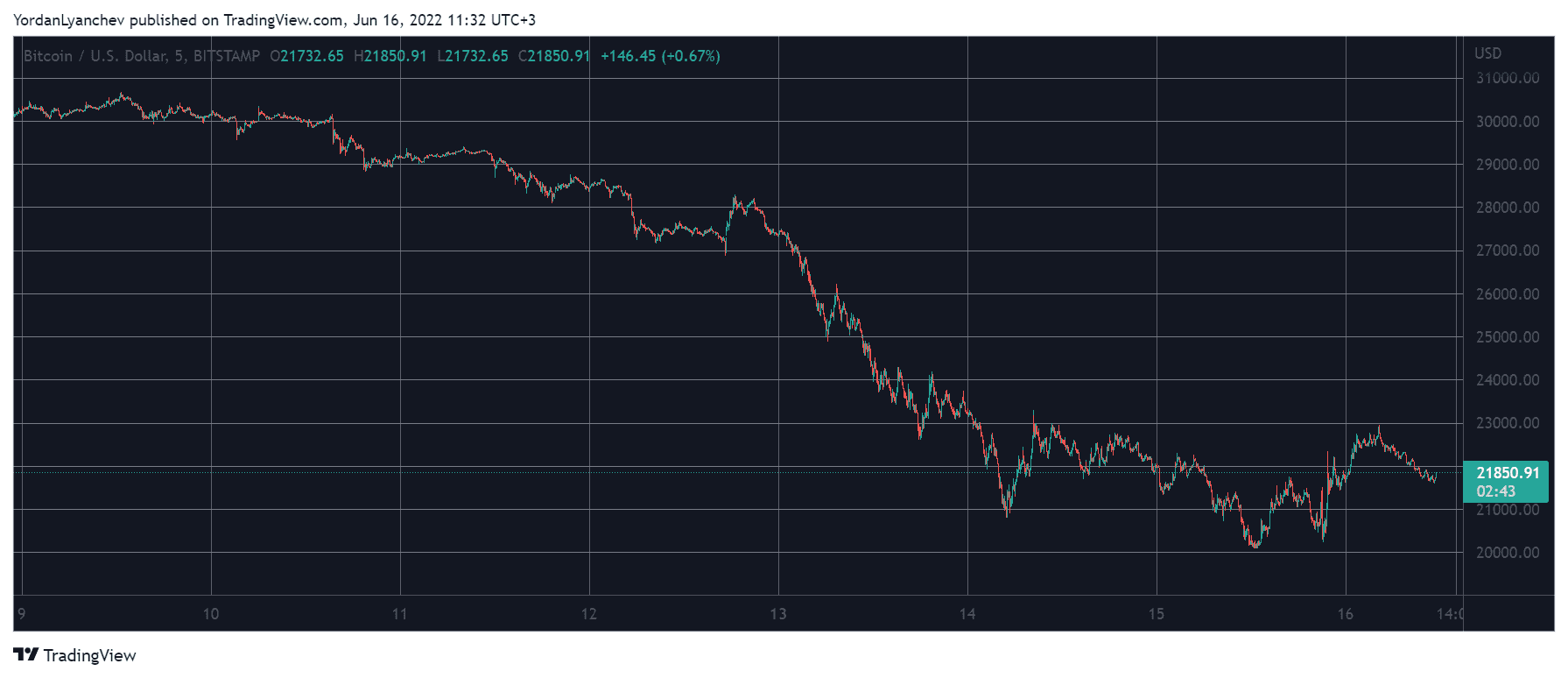 Notable Bitcoin News
After refuting the rumors that his company had to face a margin call for its BTC-backed loan from Silvergate, MicroStrategy's Michael Saylor said the recent crash has provided a great opportunity to accumulate more of the asset.
Fidelity's Director of Global Macro – Jurrien Timmer – noted that nothing has really changed in BTC's fundamentals and on-chain data shows it could be cheaper than it looks.
The popular derivatives trader – Peter Brandt – warned that BTC could further slide to $13,000 as it recently painted a double-top.
Altcoins on the Road to Recovery
The alternative coins plummeted just as hard as BTC lately, but the landscape on a 24-hour scale now is all green.
ETH was also close to breaking below a round-numbered milestone of $1,000. It didn't, though, and it has since added more than 10% of value. As a result, the second-largest crypto is now trading near $1,200.
Most of the larger-cap alts see similar gains now. BNB is at $225, ADA has jumped to $0.5, XRP is above $0.3, and DOT is close to $8.
Solana has skyrocketed by more than 20%, while TRX is up by 25% to over $0.06.
With the lower and mid-cap altcoins also recovering impressive percentages today, the crypto market cap has added $80 billion and is well above $900 billion now.
Altcoin News
TRON's massive price surge today could be attributed to the fact that the Reserve behind it had to withdraw 2.5 billion TRX from Binance to safeguard the USDD peg.
Amid the massive volatility and price crash, traders turned to stablecoins, and USDC in particular, which recorded its second-highest volume ever.
Microsoft's Co-Founder – Bill Gates – argued that NFTs and some cryptocurrencies are based on the "greater fool theory."
Source
Subscribe to get our top stories