John McAfee's Widow Still Seeking Independent Autopsy One Year After Husband's Death
23 Jun, 2022
•
3 min read
•
Regulation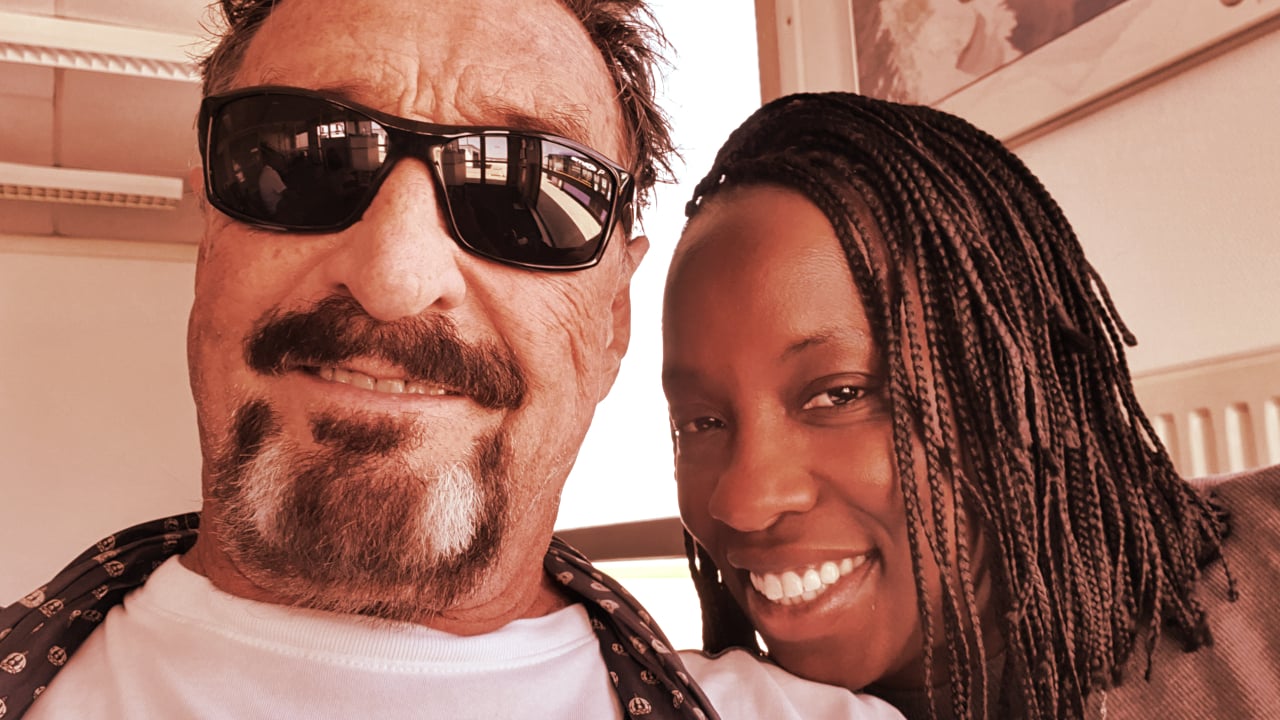 In brief
John McAfee was found dead in a Spanish prison on June 23, 2021, from an apparent suicide.
The McAfee family is fighting for the release of McAfee's body so an independent autopsy can be conducted.
A year has passed since the body of tech entrepreneur and anti-virus software developer John McAfee was found in his holding cell in a Spanish prison. To this day, as Reuters reports, McAfee's remains are still in a Spanish morgue where the initial autopsy was conducted.
McAfee's widow, Janice, has maintained that her husband's death was not the result of suicide, as initially reported, and has launched a Change.org petition campaign to pressure the Spanish government to release her husband's remains.
"One year ago today John McAfee was stolen from us. A champion of freedom & privacy, the world is a much darker place without him," Janice McAfee tweeted today, marking the anniversary.
One year ago today John McAfee was stolen from us. A champion of freedom & privacy, the world is a much darker place without him.#JohnMcAfeeDidNotKillHimself #GoneButNEVERForgotten #LegendsNeverDie — Janice McAfee (@theemrsmcafee) June 23, 2022
An autopsy conducted by Spanish authorities determined that McAfee died by suicide, saying his body was found hanging in his cell and that he had previously attempted suicide while in custody.
"McAfee's family considered the original autopsy to be incomplete and asked for further checks, which were denied by a local judge," McAfee's lawyer, Javier Villalba, told Reuters.
The family appealed the decision, and a judge then ruled that McAfee's body could not be handed to the family until the court resolved their appeal, according to Villalba.
McAfee launched the first commercial anti-virus software bearing his name in 1987 and ran for president of the United States in 2016 and 2020, both times unsuccessfully seeking the Libertarian Party nomination.
McAfee was found dead the same day that Spain's high court authorized his extradition to the United States. Spanish police apprehended McAfee after the U.S. Justice Department issued an indictment. McAfee faced 30 years in prison on tax evasion charges stemming from an alleged ICO pump-and-dump scheme that authorities say made the crypto icon over $23 million.
"It's difficult to put into words what life has been like this past year," Janice McAfee tweeted earlier this morning. "I still can't believe John is gone," she wrote, encouraging her followers to sign the Change.org petition, which at the time of publication has 1,790 signatures, with a goal of gathering 100,000 signatures.
Its difficult to put into words what life has been like this past year. I still can't believe John is gone. If you haven't yet please sign this petition to help pressure the Spanish authorities to release John's remains so he can finally be laid to rest.— Janice McAfee (@theemrsmcafee) June 23, 2022
Source
Subscribe to get our top stories