John McAfee Is Still Alive, Ex-Girlfriend Reportedly Claims In Documentary
24 Aug, 2022
•
3 min read
•
Ethereum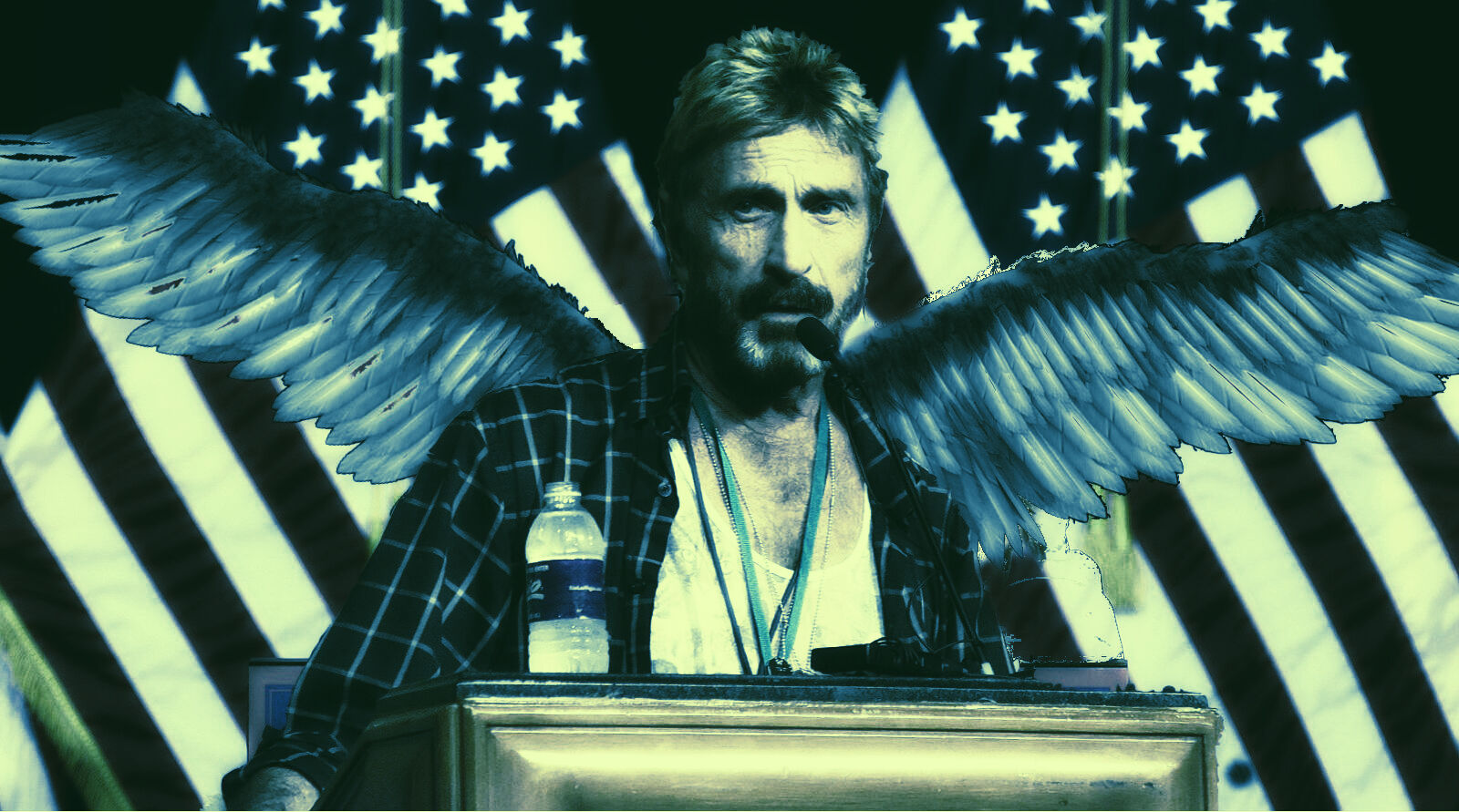 In the new Netflix documentary, "Running with the Devil: The Wild World of John McAfee," filmmakers probe the crypto evangelist's chaotic life and mysterious death—including former girlfriend Samantha Herrera's claim that he is still alive and living in Texas.
Fun Fact: The world has only the word of government officials that @officialmcafee is deceased. In other words, we know precisely nothing. John McAfee has become... Schrödinger's McAfee. If he liked your song, let the world hear it. — Rob Loggia (@Loggiaonfire) August 21, 2022
The documentary, which premieres on August 24, is directed by Bafta-winning director Charlie Russell and uses a mixture of raw footage and interviews to examine McAfee's troubled life.
In an interview with Esquire, Russell says he began conversations with McAfee about a potential documentary after the tech entrepreneur went on the run for tax evasion. Russell says he messaged McAfee and, after providing his credentials and talking with him, was invited to join him and film.
"Running with the Devil" is the finished result.
When asked about Herrera's claims that McAfee called her after his death, Russell told Esquire that he doesn't know what he thinks and doesn't think Herrera does either. "She says it, then she looks at the camera, and I can't work out whether she thinks it's real or not," he said.
According to the New York Post, McAfee suffered a heart attack in 2012, after which he broke off his relationship with Herrera, which she told interviewers began when she was 18. He subsequently married Janice Dyson.
McAfee's widow Janice McAfee did not respond to a request for comment from Decrypt. But she subsequently tweeted that her late husband had indeed passed away.
Oh how I wish this were true. If John were alive I'm pretty sure he would not be hiding out in Texas. — Janice McAfee (@theemrsmcafee) August 23, 2022
"Oh how I wish this were true," she wrote. "If John were alive I'm pretty sure he would not be hiding out in Texas."
"Texas is awesome, for sure," she later clarified. "But John was being held in a Spanish prison because of trumped charges against him from the IRS so I doubt he would choose to hide out in America. That would be silly."
McAfee faced 30 years in prison on tax evasion charges from an alleged ICO pump-and-dump scheme that authorities say netted over $23 million.
"You are questioning how you feel about watching this man, who no doubt has done some terrible things," Russell told Esquire. "The people who surround him are aware of how awful he can be and how joyful he can be, so it's about how you balance those two things out."
In June 2021, McAfee died from an apparent suicide while in custody in Spain. McAfee's widow continues to question the official details of her husband's death and has started a petition campaign to pressure the Spanish government to release her husband's remains so an independent autopsy can be performed.
Its difficult to put into words what life has been like this past year. I still can't believe John is gone. If you haven't yet please sign this petition to help pressure the Spanish authorities to release John's remains so he can finally be laid to rest.— Janice McAfee (@theemrsmcafee) June 23, 2022
In June, Reuters reported that McAfee's remains are still in a Spanish morgue.
Source
Subscribe to get our top stories