Investors Withdraw Millions From FTX as Binance Begins Liquidating FTT Token
7 Nov, 2022
•
4 min read
•
Analytics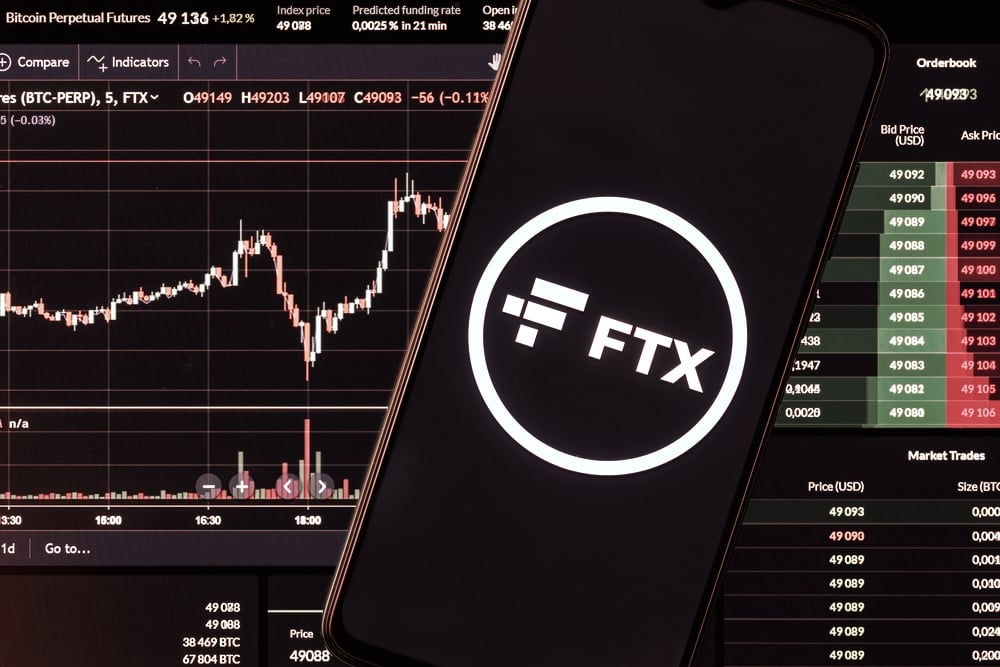 Crypto exchange FTX is under the industry's microscope again.
Hot on the heels of Binance CEO Changpeng "CZ" Zhao declaring that Binance is liquidating its stash of FTX's native exchange token FTT, mass withdrawals from FTX have accelerated, with weekly stablecoin outflows from FTX reaching a whopping $451 million, according to Nansen data.
Conversely, Binance has seen net inflows of more than $411 million over the same period.
Some of those stablecoin withdrawals, as highlighted by blockchain analysts at PeckShield, were executed by Jump Trading, which has transferred about $40.4 million worth of USDC stablecoin from FTX in the past 24 hours.
#PeckShieldAlert ~$40.4M $USDC (~$40.4M) has been transferred from FTX: 0x2fa to Jump Trading: 0x4f1 within the last 24 hours, — PeckShieldAlert (@PeckShieldAlert) November 7, 2022
Stablecoins haven't been the only asset leaving FTX, either.
In additional transactions, around $94 million worth of cryptocurrencies, including about $73.9 million in Ethereum, was sent from FTX to crypto lending firm Nexo.
Other tokens like Fantom (~$1.1 million) and Chainlink (~$1.4 million) were also moved off the exchange.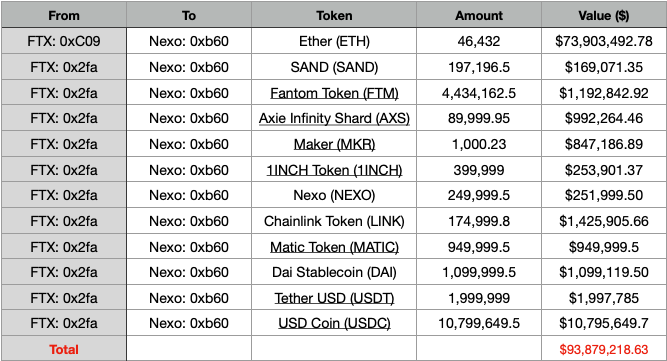 PeckShield also pointed to withdrawals of about 21,768.8 ETH (~$34.5 million) to Coinhako, 14,547 Staked ETH (~$23 million) to an unidentified wallet, and another 10,000 ETH worth about $15.9 million to Nexo.
Decrypt has contacted Nexo, FTX, and Peckshield for comments on these token movements.
FTX hemorrhages tokens
This mass exiting of tokens from the FTX exchange comes amid reports that Alameda Research, the trading firm founded by Sam Bankman-Fried, held as much as $5.8 billion in the exchange's native FTT token—$3.66 billion in "unlocked FTT" and $2.16 billion in "FTT collateral."
Given such large exposure to FTT, some have speculated that this could mean a liquidity crisis for Alameda should the markets move against FTT, dropping the token's value.
Shortly after these reports hit the market, CZ took to Twitter to announce that he would be offloading the firm's FTT holdings. Binance received funds in FTT as part of its exit last year from an early equity position in FTX it had since 2019.
"Due to recent revelations that have come to light, we have decided to liquidate any remaining FTT on our books," CZ tweeted on Sunday.
It is unclear if this liquidation was a response to reports revolving around Alameda's balance sheet.
CZ said that he "won't support people who lobby against other industry players behind their backs."
Liquidating our FTT is just post-exit risk management, learning from LUNA. We gave support before, but we won't pretend to make love after divorce. We are not against anyone. But we won't support people who lobby against other industry players behind their backs. Onwards.— CZ 🔶 Binance (@cz_binance) November 6, 2022
The FTT token quickly dropped from $25.55 to today's price of $22.39.
Sam claps back
According to SBF, concerns of a liquidity crisis are nothing but "a bunch of unfounded rumors."
The FTX boss also cited Alameda Research CEO Caroline Ellison, who said, "that specific balance sheet is for a subset of our corporate entities." Ellison also claimed that the firm has over $10 billion of assets "that aren't reflected there."
SBF went on to thank "those who stay level-headed during crazy times," adding that withdrawals and deposits at FTX were working fine and the exchange had already processed "billions of dollars" worth of transactions.
2) A bunch of unfounded rumors have been circulating. You can see .FTX keeps audited financials etc. And, though it slows us down sometimes on product, we're highly regulated.— SBF (@SBF_FTX) November 6, 2022
As for Binance's decision to dump its FTT holdings, Ellison offered to buy the exchange's remaining FTT holdings over-the-counter (OTC) for $22 if CZ was looking to "minimize the market impact" of the sudden move.
Source
Subscribe to get our top stories