Crypto Hacks, Low Volatility, and Green Tokens: the 3 Top Crypto Trends of October 2022
18 Oct, 2022
•
5 min read
•
Other
2022 has been a particularly formative year for the crypto market, with a whole host of changes hitting the market. These have occurred while the market has been experiencing another crypto winter, with prices of most assets hanging barely above support levels. As such, some investors have become forlorn at the state of the market.
While 2022 has seen a lot happen, there have been noticeable themes in recent months. This month, those themes seem to be crypto hacks, low volatility, and green tokens – all of which may continue as we head toward the end of the year. The market has always been the prime target of hackers, while occasional low volatility periodically occurs. However, the last point about green tokens may be what has the most significant long-term impact on the market.
Hacks Continue to Haunt the Crypto Market
Besides the crypto winter, one of the most frequently discussed events in the market in 2022 relates to hacks. Unfortunately, there have been several such incidents this year, resulting in billions of dollars lost. Blockchain analysis firm Chainalysis estimates that over $3 billion was stolen in 2022, which would put previous years to shame.
Market enthusiasts would have been hoping that there would have been fewer hacks in October, but that's not the case. In fact, this month was the worst month yet for DeFi protocols, with over $700 million stolen across 11 hacks, according to Chainalysis.
1/ After four hacks yesterday, October is now the biggest month in the biggest year ever for hacking activity, with more than half the month still to go. So far this month, $718 million has been stolen from #DeFi protocols across 11 different hacks. — Chainalysis (@chainalysis) October 12, 2022
Cross-chain bridges have become the most effective choice for bad actors, which accounted for 82% of all funds stolen in October. The Binance Smart Chain bridge hack was a high-profile attack that highlighted the vulnerability of these systems.
Volatility is Low, But So are Market Prices
Earlier in the year, the market saw heavy volatility, which culminated in the great crash that left a prolonged bear market in its wake. Since then, token prices have tanked to lows – and some have called 2022 the most important bear market in the crypto market's history.
Prices have tumbled from roughly $67,000 to under $20,000. Seasoned crypto investors will tell you that this is just how the crypto market index works and that now is the time to get back into the market.
However, compared to 2021, the crypto market's volatility is actually fairly low. If one were to look at how the market has been faring over the past 6 to 8 months, it's clear that the market is actually somewhat stable at its current prices. The $20,000 mark seems to show that investors are actually quite optimistic about its current price and that there may be room for growth upwards.
October has been a particularly stable month for crypto prices, which gives a strong indication that current prices are at the bottom for many assets. Meanwhile, other markets are seeing quite a strong level of volatility, which is causing chaos in the financial world.
Some analysts believe that this unusually low level of volatility is preceding a big move upwards. Time will tell if that's true, but investors have the opportunity to enter what appears to be a market bottom.
However, Green Tokens Showing Strong Price Potential
One of the most frequent points of discussion this year is the fact that many crypto networks consume a great deal of energy. These are mostly Proof-of-Work networks and it is why Ethereum's The Merge was so widely celebrated because it brought down its power consumption by over 99% by switching to Proof-of-Stake.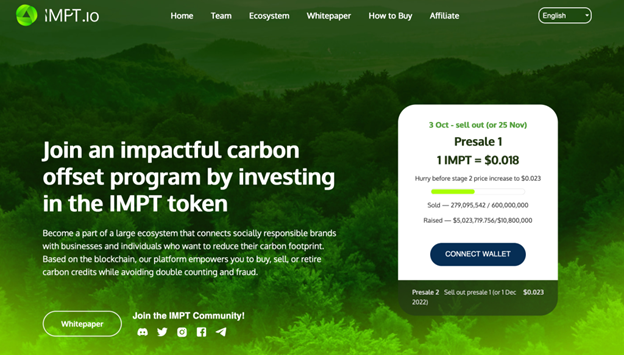 Investors are rushing to the IMPT presale.
Investors in the market have also taken the climate impact of crypto to heart and as a result, are moving towards more environmentally-friendly platforms. A prime example of this interest is in IMPT, a carbon credits platform that is seeing a strong influx of investors in its presale. The project is heavily focused on protecting the environment and is working on numerous features to that end.
IMPT allows users to buy IMPT tokens, which can then be used to purchase carbon credits. 1 carbon credit is the equivalent of 1 ton of carbon output. These credits can be burnt and minted as NFTs, which can then be sold on IMPT's green NFT marketplace. The project also has a shopping platform and a social platform that encourages stakeholders – brands, businesses, and individuals – to contribute to environmental protection.
The success of IMPT's presale indicates that this is a new path that projects may be forging. October is proving to be a month where the narrative is changing toward how crypto projects can help the environment while also providing revenue streams.
The vision of is to offer simple, affordable, and effective mechanisms that would help each member of society combat climate change and invest in our planet.Join Our Discord Channel To Find Out more!Discord – — IMPT.io (@IMPT_token) October 16, 2022
Investors seem to be taking towards this new trend of Web3 projects that are putting the environment first. This may alter the future of the Web3 space and result in a movement towards projects that meet certain social and altruistic criteria first, like protecting the environment.
Is October Setting the Tone for the Future?
October is proving to be something of a transitional month for the crypto market. There are signs that it could break out of its bear market slump and shoot upwards. This is never certain, but the unusually low volatility points to that. Meanwhile, while many projects are seeing little investment growth, projects like IMPT are showing that there is still a lot of investor interest in innovative projects.
Source
Subscribe to get our top stories