BlockFi, Genesis, Gemini, and Salt are all going down | Learn how Dash 2 Trade can make crypto a better place
20 Nov, 2022
•
10 min read
•
Altcoins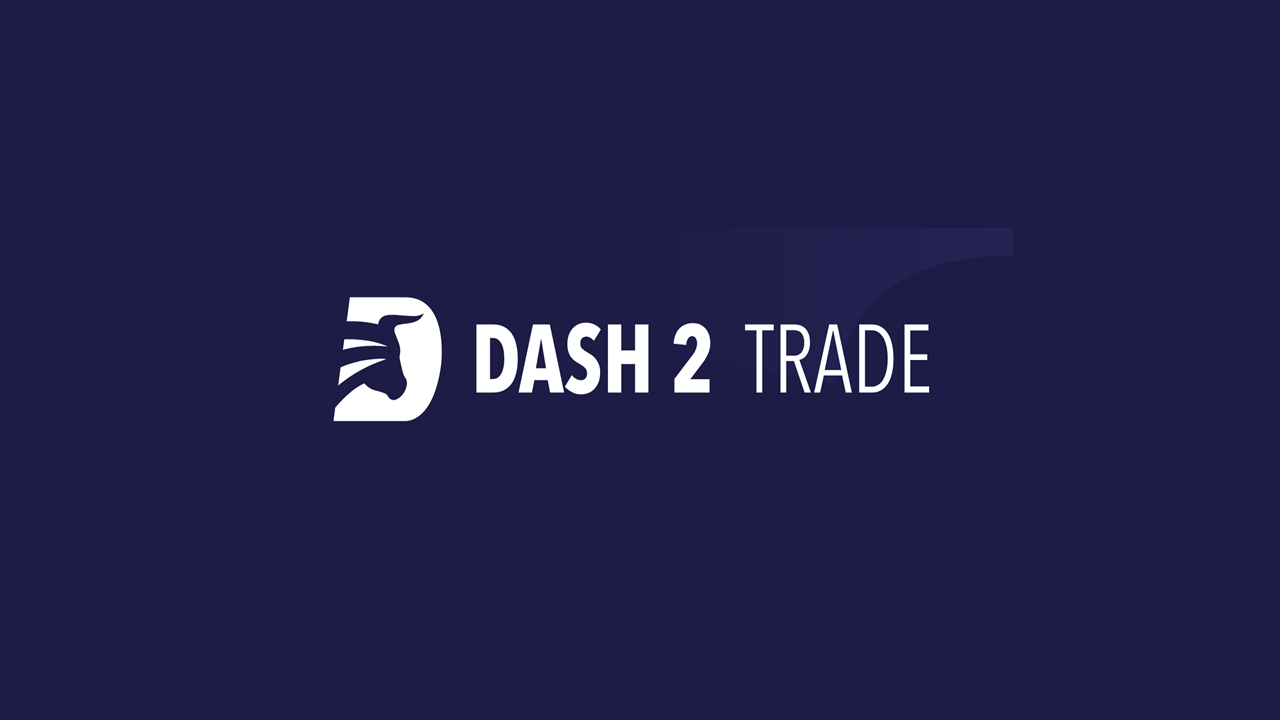 The fallout from the disastrous FTX Exchange collapse continues to spread deeper into the crypto world.
Countless projects with ties to FTX have shown signs of failure since the FTX service went bankrupt.
The latest players in the industry with cracks starting to show are BlockFi, Genesis, Gemini, and Salt.
With the dominos starting to fall, it's time to look at projects that can help make crypto a better place for investors – and Dash 2 Trade is one of the outstanding options.
Alongside actionable crypto trading signals, Dash 2 Trade will help provide users with in-depth insights into crypto projects and help investors avoid scams, honeypots, and rug pulls.
Crypto Contagion Continues Spread: BlockFi, Genesis, Gemini, and Salt All Affected
You probably don't need an update about the shambolic FTX collapse that wiped out $200 billion from the crypto market cap overnight and sent BTC beneath the 200-weekly moving average for the first time in its history.
FTX filed for bankruptcy protection in the United States on Friday, and we are starting to see the cracks in key industry players with ties to FTX.
BlockFi Preparing for Bankruptcy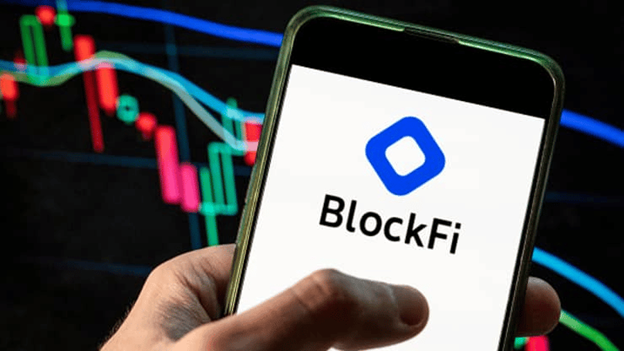 BlockFi is one of the latest to be affected.
According to a Bloomberg report, the crypto lending platform paused withdrawals last week and is preparing for bankruptcy over the next few days.
BlockFi is closely tied to FTX after receiving a $400 million credit line to save the company in July following the first wave of crypto market capitulation caused by the Terra Luna collapse.
One of the final dominos in the downfall of BlockFi was lending a significant amount of BlockFi's liquidity to Alameda Research.
Gemini Exchange & Genesis Halt Withdrawals
Genesis Global Capital also suspended customer withdrawals this week, citing a response to "extreme market dislocation and loss of industry confidence."
Today Genesis Global Capital, @GenesisTrading's lending business, made the difficult decision to temporarily suspend redemptions and new loan originations.— Digital Currency Group (@DCGco) November 16, 2022
Genesis plays a crucial role in digital asset fixed-income markets and is one of the central players that helped users to generate an APY from deposits.
The lending project stated that it had $175 million in funds stuck in FTX.
Despite the lending arm of Genesis being affected, the company maintains that other sectors of its platform, such as the spot and derivatives trading services, are still unaffected.
Genesis was one of the primary providers of fixed-income APY for the Gemini exchange, founded by the Winklevoss twins. As a result, the business recently halted its Earn program, which allowed customers to lend their crypto assets to Genesis to earn up to 8% annually.
Gemini stated that depositors that provided capital to the Earn program could withdraw funds within five days.
Gemini further stated that other parts of its exchange are operating as expected, and all customer funds held on the exchange are held 1:1 and are available for withdrawal at any time.
Salt Assessing the Damage
Another crypto lender that halted withdrawals this week is Salt Lending, one of the oldest players in the crypto lending market.
Salt CEO Shawn Owen stated that the collapse of FTX has "Impacted our business" and decided to pause withdrawals until they can determine the impact of fallout.
Salt Lending has admitted exposure to FTX & has paused deposits & withdrawals effective immediately. 👀 — Tiffany Fong (@TiffanyFong_) November 15, 2022
With some of the most prominent players in the industry facing collapse, it's time to start looking for projects that can make crypto a better place. One upcoming project with the potential to help traders is Dash 2 Trade.
Dash 2 Trade Set to Make Crypto a Better Place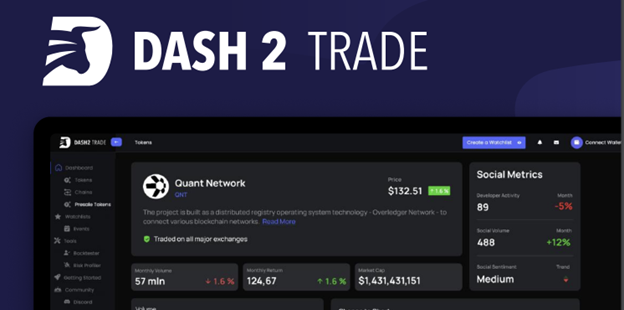 Dash 2 Trade is a world-class cryptocurrency analytics platform that provides in-depth market insights and intelligence to help traders make more informed trading decisions.
The entire idea of the platform is to provide crypto trading signals, future predictions, and social analysis to help traders make better decisions to become consistently profitable in the crypto space.
The ability to make trading decisions based on actionable signals is one of the most significant factors of success for traders. A trader with up-to-date, relevant data can consistently make better decisions to succeed in the market.
The in-depth market insight can help traders create and test new market-beating strategies. It also helps them track the latest news and critical on-chain data for tokens. Furthermore, its bespoke presale and ICO scoring system will help make crypto a better place by alerting investors to potential scams and honeypots.
The problem with the cryptocurrency industry is that it moves at lightning speed, making it extremely difficult for traders to keep up-to-date with all the latest developments. Dash 2 Trade intends to combat this by providing a dashboard that includes essential information for traders to stay updated on the latest movements in the market.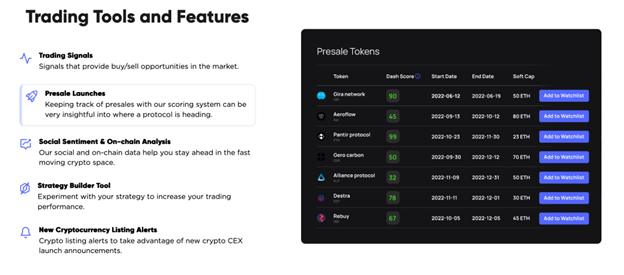 The Dash 2 Trade platform will consist of the following features:
Trading Signals with actionable buy/sell opportunities
A bespoke presale/ICO scoring system
Social sentiment and on-chain analysis
Strategy builder
New Crypto listings
Trading competitions
Together, these features will help traders to stay on top of the market and help them to become more consistent in their results. The platform is targeted toward both beginner and advanced traders, and access will be on a subscription basis through the D2T token, which is currently undergoing a presale.
Bespoke Presale/ICO scoring system
The bespoke presale and ICO scoring system is one of the flagship offerings from Dash 2 Trade. It's one feature that will help make crypto a better place by assisting investors in weeding out potential scams, honeypots, and rug pulls.
With thousands of tokens launching every month, the presale space is a challenging segment of the market to track.
However, keeping track of the presale and ICO space helps to provide valuable insight into where the general market might be heading next. Furthermore, investing early into these potentially groundbreaking projects can give investors some of the most significant returns.
The Dash 2 Trade platform provides investors with essential information and metrics to help them assess the legitimacy of presale tokens.
The scoring system employs manual and automated analysis, with the team performing manual scoring of projects to assess metrics that automatic software cannot evaluate.
The scoring system considers metrics such as team credentials, contract audits, advisory experts, and tokenomic models – and then come up with a score based on the findings.
An overview of the top-rated presales and ICOs can quickly help investors determine which projects to invest in and which should be avoided at all costs.
Unique Social Indicators
Another flagship feature of the Dash 2 Trade dashboard is the unique social and on-chain analysis insights.
The unique social and on-chain analysis indicators can help traders to spot coins that have the potential to surge higher before the price moves. This will allow them to take action and enter a position before the bulk of the movement has happened.
Socio-cultural activities in the space dictate major market movements in crypto. The team behind Dash 2 Trade believes that value is driven by perception, which is why they deem social metrics necessary.
The Dash 2 Trade platform helps to automate the process of gathering social metrics in the crypto space and displays them in an easy-to-digest fashion.
Metrics that are tracked include
Social Media Activity – how active and widespread specific token discussions are
Sentiment around tokens – how positive are the discussions related to particular tokens
Developer activities – how frequently are the asset repositories getting updates
All of these metrics will provide valuable insights into potential driving forces that can help token prices surge before the market moves.
Build and test strategies
The Dash 2 Trade analytics platform seeks to create consistently profitable traders by encouraging independent trading strategies. Therefore, the team has created a strategy builder that allows users to develop and test trading strategies based on Dash 2 Trade Metrics.
The backtesting section has a backtesting capital feature that allows traders to test the strategy before risking capital. This will help them understand the underlying mechanics of their strategy in a demo-based environment to see its profitability. If the strategy isn't profitable, traders can easily change the system to create a plan that does beat the market.
Furthermore, traders on the platform will require D2T tokens to be able to utilize this section of the platform.
World-Class Dashboard from a World-Class Team
One of the strongest reasons to get involved in Dash 2 Trade early is due to the successful track record of the team behind the project.
Quant developers and high-profile venture capitalists back the world-class development team. The team's previous project was Learn 2 Trade, an FX education and signals platform that managed to gather a community of over 70,000 traders. Learn 2 Trade became a cornerstone of the FX community, and the team intends to create a crypto-based dashboard of similar success.
The team is now partnered with profitable crypto traders, quants, and AI developers to deliver the crypto trading dashboard. Their track record shows they have all the skills and expertise necessary to turn Dash 2 Trade into a thriving ecosystem. Furthermore, they will also be able to leverage their solid user base, who all have a strong cross-over interest in the cryptocurrency industry.
Presale Gaining Momentum
The presale for the Dash 2 Trade native token, D2T, is currently underway. The presale started at the tail end of October and has already managed to raise well over $6 million in the short time active;
The presale utilizes a staggered pricing system, with the price for the token increasing across multiple stages. For example, the presale is currently in stage 3 and sells at $0.0513. Once all of the tokens allocated for this stage are sold, the price for the token will increase to $0.0533.
The increasing pricing mechanism is a fantastic way to bank profits early. Those who invest in the presale's early stages will already have profit secured when the presale ends and the token is listed on major exchanges.
Interestingly, Dash 2 Trade has already secured partnerships with prominent exchanges to list D2T after the presale. The first announcement of a centralized exchange listing was for LBank Exchange, an exchange that processes over $1 billion in daily volume;
📣 Attention #D2T Crew! 📣First #CEX listing confirmed 🎉After the presale $D2T will be listed on @LBank_Exchange! 🚀Join the presale now 💪⬇️ — Dash 2 Trade (@dash2_trade) November 2, 2022
Recently, Dash 2 Trade announced another centralized exchange listing with BitMart Exchange – a top-30 ranked exchange in the industry;
🌟 Upcoming New Listing 🌟🤩 #BitMart will list D2T @dash2_trade soon!D2T is a utility token that offers its holders a full range of benefits, such as access to the Dash 2 Trade terminal.👉 Keep an eye on our official announcement for more details! — BitMart.Exchange (@BitMartExchange) November 11, 2022
With top-tier exchanges already lined up, early-stage presale adopters are set for an explosive token launch.
After the fallout contagion from the FTX collapse, analytics and intelligence platforms such as Dash 2 Trade can help make crypto a better place for investors by providing valuable education and insights about where people are putting money.
Visit Dash 2 Trade Presale
Source
Subscribe to get our top stories