The Biggest Celebrity NFT Owners in the Bored Ape Yacht Club
15 Nov, 2021
•
7 min read
•
NFT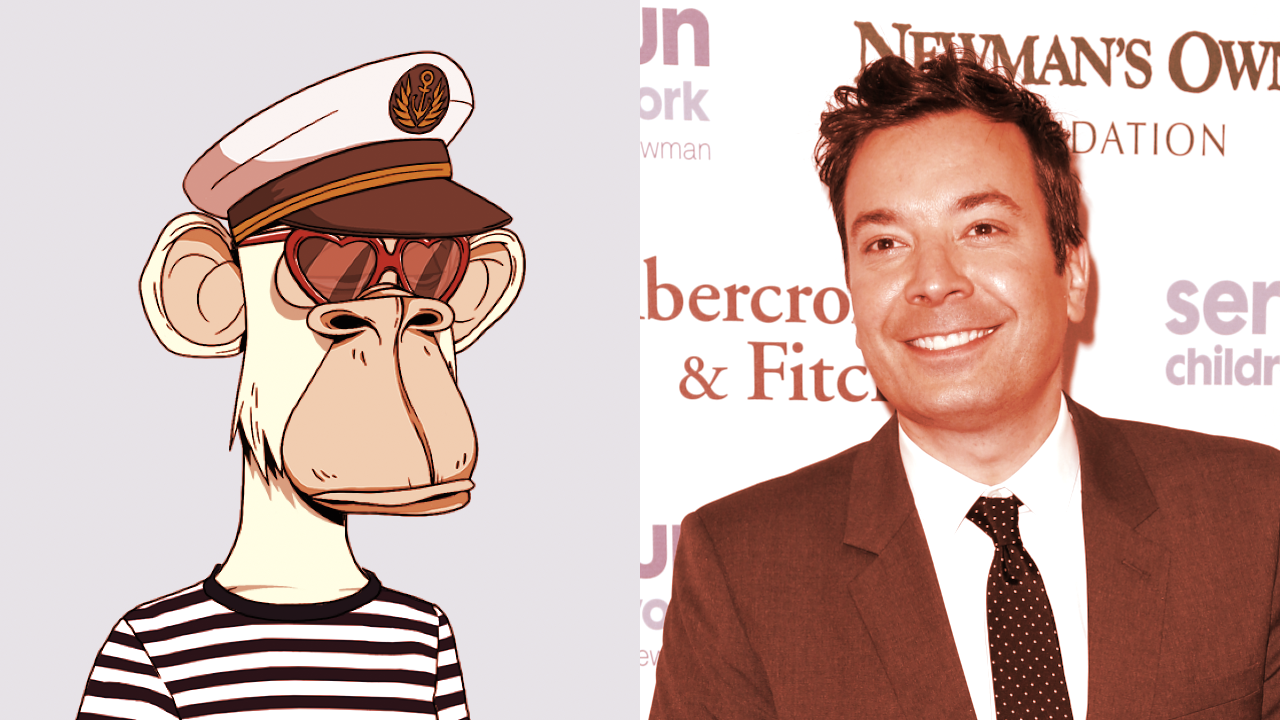 In brief
The Bored Ape Yacht Club NFT collection has an increasing number of celebrity owners from across the entertainment and sports worlds.
Holders include Jimmy Fallon, Stephen Curry, Mark Cuban, and many more.
CryptoPunks might have kicked off the NFT profile picture trend, but the Bored Ape Yacht Club is making even stronger inroads to collectors who aren't deeply immersed in crypto culture.
Yuga Labs' Ethereum-based NFT project—which has yielded more than $1 billion in secondary trading volume across three collections—counts a growing number of celebrity owners, including big names like TV host Jimmy Fallon, athletes including Stephen Curry and Shaquille O'Neal, and musicians like Marshmello and Post Malone.
The Bored Ape Yacht Club is billed as an exclusive social group for NFT holders, and the club keeps drawing more and more famous folks. An NFT acts like a receipt that proves ownership for a rare digital item: in this case, one of 10,000 unique avatars that can be used for social media profiles, creative projects, and potentially turning a profit given their rapid rise in value.
With both Universal Music Group and producer Timbaland turning Bored Apes into virtual music groups, plus plans to bring the brand across the world of entertainment, Bored Apes could soon become ubiquitous—with celebrity holders helping to lead that charge.
Here's a look at some of the biggest celebrity holders of Bored Ape Yacht Club and Mutant Ape Yacht Club NFTs.
Jimmy Fallon
The Tonight Show host Jimmy Fallon revealed to top-selling NFT artist Beeple recently that he had "aped into" the collection, and then on Friday revealed his purchase: Bored Ape #599. It was purchased for about $224,000 worth of ETH in early November, and Fallon showcased the image to his 51 million Twitter followers by writing, "Permission to come a bored?" Now he says he's looking into Mutant Apes, as well.
Permission to come a bored? @BoredApeYC #NewProfilePic pic.twitter.com/1pbBt2gB1V— jimmy fallon (@jimmyfallon) November 12, 2021
Stephen Curry
Curry wasn't the first notable athlete to buy a Bored Ape, but he was surely the most prominent one when he joined in late August. The three-time NBA champion, Subway spokesperson, and "Holey Moley" TV show co-creator snagged his Bored Ape NFT for about $180,000 worth of ETH at the time. Curry was seen hanging out in the project's official Discord server shortly after the purchase.
Post Malone
Rapper Post Malone is the newest addition to this list, just changing his Twitter profile picture to a Bored Ape today. Crypto payments processor MoonPay posted a TikTok video over the weekend that teased him buying a Bored Ape and chatting about it. MoonPay also handled Fallon's purchase, potentially as part of a celebrity marketing campaign. Posty seemed excited from the video, but hasn't tweeted about the acquisition as of this writing.
Mark Cuban
Billionaire investor, Dallas Mavericks owner, and "Shark Tank" star Mark Cuban apparently received his Bored Ape as a gift in May, according to community resource The Bored Ape Gazette. However, he's held onto it amid skyrocketing valuations, and even featured it on his own Lazy.com NFT gallery profile. Cuban is also a big fan of Dogecoin and has invested in many NFT and crypto-related companies.
Timbaland
The legendary hip-hop producer has not only launched his own Ethereum music NFTs that you can mix and match together, but has also aped into the Bored Ape Yacht Club. Timbaland has Bored Ape #590 as his Twitter profile picture as of this writing, plus he just launched Ape-In Productions, which will develop virtual music groups and animation featuring avatars from Bored Ape NFTs.
Shaquille O'Neal
Shaq, the big man himself and retired four-time NBA champion, owns an NFT from the spinoff collection, Mutant Ape Yacht Club. He bought it in September at a relatively modest $14,000 worth of ETH, and best of all, his OpenSea wallet name is "manofdominance." For a while, Shaq used a Creature World NFT as his Twitter avatar, plus he has launched his own NFTs via the Ethernity Chain platform.
Lil Baby
Rapper Lil Baby is yet another celebrity that joined the Yacht Club via MoonPay, but he also went a step further, "mutating" his Bored Ape with a special NFT serum to create a second Mutant Ape Yacht Club NFT. He's using the latter as his Twitter profile pic now, and MoonPay captured both the purchase and mutation on its TikTok.
I mutated my ape ! Shoutout @MoonPayHQ @BoredApeYC pic.twitter.com/Gf8a1wEFrw— Lil Baby (@lilbaby4PF) November 4, 2021
Dez Bryant
Free agent NFL wide receiver Dez Bryant, best known for his years with the Dallas Cowboys, was an early celebrity fan of Bored Apes and NFTs before a lot of the people on this list aped in. He doesn't currently have his Bored Ape as his Twitter avatar—now he has an NFT profile pic from one of the collections launched on his own NFT platform, Personal Corner.
The Chainsmokers
DJ and producing duo The Chainsmokers have been in the crypto space for a while, investing in startups, and they aped into a Bored Ape NFT in September at a price of about $210,000. They're on hiatus and actually haven't tweeted since early 2020, but that didn't stop them from changing their Twitter avatar to the Bored Ape in question.
Marshmello
The mask-wearing DJ has since traded up to a CryptoPunk avatar for his Twitter profile pic, but he aped into the Bored Apes in September with a rainbow-teeth NFT purchased for nearly $220,000 worth of ETH at the time. Marshmello has tweeted about CrypToadz, as well.
Goin' Ape Shit @BoredApeYC #BAYC https://t.co/2xjJWC4JDX— marshmello (@marshmellomusic) September 29, 2021
Logan Paul
Like his brother Jake, social media influencer Logan Paul is big on NFTs. He appears to be most partial to CryptoPunks, owning a handful and even turning one into jewelry, but he also has a Bored Ape in his wallet—and a bunch of knock-offs that were likely sent to his wallet unprompted. He has over 4,000 NFTs in his wallet, with a steady stream being sent in by folks probably trying to pump their projects.
Mike Shinoda
The Linkin Park rapper and solo musician not only collects NFTs and showcases them via his Audius profile (including numerous Mutant Apes), but also creates his own. Shinoda has released an array of NFTs, particularly via the recently-shuttered Tezos marketplace, Hic et Nunc. He also streams regularly via Twitch and releases NFT of artwork created on stream, and is keen on a crypto future.
When there's a @BoredApeYC x @ChristiesInc event, you gotta get out your nice suit.Thanks @Strawberrywtf & @JRArtSpace_NFT for the fine tailoring. pic.twitter.com/OFNWrBhZUg— Mike Shinoda (@mikeshinoda) September 16, 2021
Steve Aoki
Like Shinoda, DJ Steve Aoki is deeply invested in NFTs, not only as a collector but also a creator. He's dropped stuff on Nifty Gateway in the past, recently announced a Solana-based marketplace alongside legendary comic book artist Todd McFarlane, and works with artist pplpleasr to support women NFT artists. Aoki also holds a few Bored Ape NFTs and a couple of Mutant Apes, as well, alongside plenty more NFTs.
KSI
YouTube star and rapper KSI fell rapidly down the NFT rabbit hole. He bought his first NFTs in August, and within two days he'd created a Twitter alt account dedicated to NFTs and gloated about how much his Bored Ape rose in value. Helping KSI ape in was Banks, another NFT die-hard and co-founder of the popular esports organization, FaZe Clan.
My Bored Ape is now worth over $100,000. Stop sleeping on NFTs pic.twitter.com/HQW6l8F4Sz— KSICRYPTO (@ksicrypto) August 25, 2021
Rich the Kid
Rapper Rich the Kid is quickly making moves in the NFT space, buying his first Bored Ape in early November and already asking his fans whether his Ape should "drop a music video." He also tweeted about purchasing NFT-based land in the upcoming Ethereum-based metaverse game, The Sandbox. He previously released his own Rich Kids NFT project in September.
Source
Subscribe to get our top stories