Aptos Price Will Drop More at Token Unlock Dates – Here's a Project with no Tax and Vesting
27 Oct, 2022
•
4 min read
•
Other
Aptos has been one of the top trending cryptos in recent weeks but some investors are worried about the upcoming token unlock – one project with no vesting period is Dash 2 Trade which has been racing through its presale and secured nearly $2 million in just three days.
The APT token became one of the most talked about new coins in the space this month after launch and quickly grew from around $8 to more than $10 on incredible 24-hour volume of more than $1 billion.
But while the new Layer-1 solution continues to attract investors and traders, many are worried that the price will tank when the vesting period sees tokens unlocked on a regular basis in the coming months and years.
What is Aptos?
Aptos is a new Layer-1 solution aimed to compete with the likes of Ethererum, Solana, Cardano, Polkadot, Binance Smart Chain, and others.
Built by former Meta employees, it was developed in early 2020 and attracted more than $400 million in investment from crypto venture capital firms.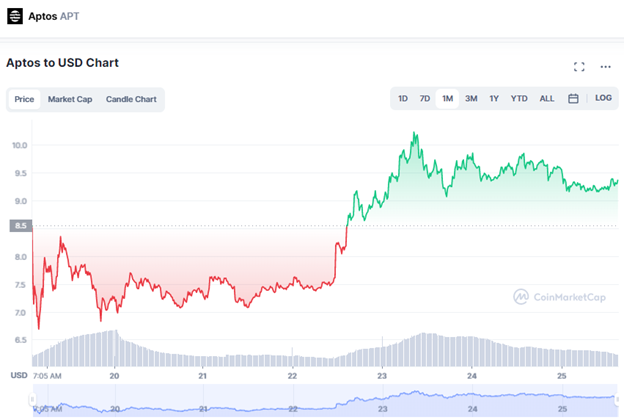 It is currently capable of speeds of 150,000 transactions per second – Ethereum will be able to handle 100,000 tps because of the Merge and Sharding – and also has a fixed cost for data access and modification, while the blockchain allows for huge storage of datasets.
Aptos Tokenomics
However, some crypto investors and critics have become wary of investing in the new blockchain because of its tokenomics.
The current circulating supply is 1 billion, but that will increase to 1.5 billion over the next 10 years with monthly token unlocks.
Aptos says 51% of the total tokens will go to the community, though there have been questions over how they were randomly distributed.
There have also been questions over 82% of APT tokens being staked, with a four-year vesting period, with questions over whether that will later be dumped on retail investors.
Aptos Alternative – Dash 2 Trade
One new project without any vesting period is Dash 2 Trade, a crypto trading signals and analytics platform that aims to help its users make more well-informed decisions on their holdings.
The project has been racing through the early stages of its presale and has already raised almost $2.5 million, having sold out its first phase of $1.7 million tokens in just three days.
Visit Dash 2 Trade Presale
Dash 2 Trade Presale and Tokenomics
The nine phases of the presale will see 700 million of the strict max 1 billion supply sold during the presale, with no vesting period once the token is launched to the wider public.
The native D2T token, which is taxless and built on Ethereum, was on sale for $0.0467 during phase 1 of the presale and will sell for $0.0662 in phase 9 – a 39% increase.
Of the remaining 300 million tokens, 15% will be held for the development of the project, 50 million for talent acquisition to further develop the platform, 50 million for market liquidity, and the final 50 million will go to the competition pool for traders
Dash 2 Trade Features
Dash 2 Trade will utilize a range of data points and insights to help users maximize potential profits.
There will be trading signals to highlight buying and selling opportunities, and users will be alerted to trends with the platform tracking social sentiment and on-chain data.
Traders can access a number of different tools to optimize trading strategies, discuss them with other community members and use a back-tester to test them in real-time without risking capital.
Dash 2 Trade will also develop a bespoke scoring system for new crypto presale projects, scoring them out of 100, and send out alerts for new coin listings.
The project is from the same team that developed the beginners' trading platform Learn2Trade, which has more than 70,000 users globally.
The team is doxxed and KYC-verified by CoinSniper and the smart contract is audited by SolidProof.
More information can be found in the whitepaper or the Dash 2 Trade Telegram group.
Visit Dash 2 Trade Presale
Source
Subscribe to get our top stories